How Can I Prepare for The CELPIP Test?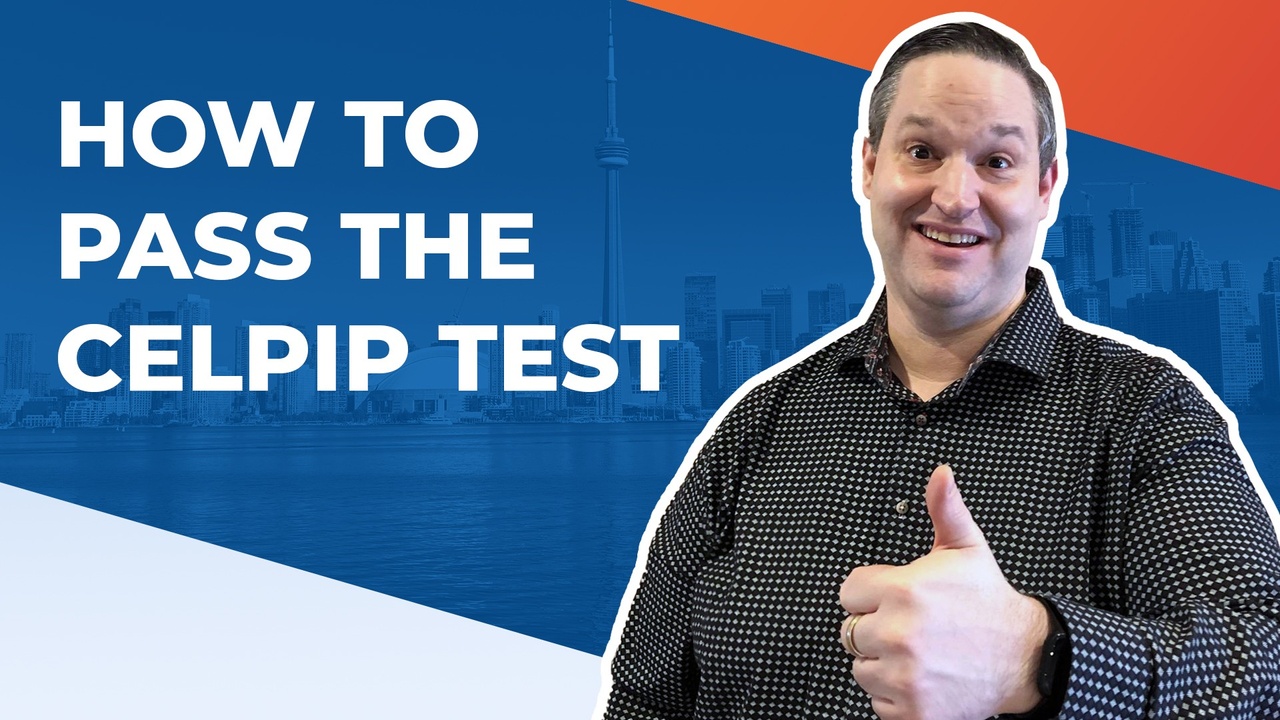 To qualify for Express Entry, skilled immigrants must prove their language skills by taking a language test with an agency approved by the Immigration, Refugee, and Citizenship Canada (IRCC). It is important to remember that you must complete the language test as language requirements need to be met to qualify for Express Entry or other immigration programs.

The language test can be done in French and English through Immigration, Refugee, and Citizenship Canada (IRCC) approved tests. For English language proficiency tests, the Canadian English Language Proficiency Index Program (CELPIP) and the International English Language Testing System (IELTS) are approved by the IRCC to administer tests. For the French language proficiency test, Test d'évaluation de français (TEF) is the only agency approved by the IRCC.

You might be thinking to yourself, "Which one of the English Proficiency tests should I take?" That is a valid question as you have the two most popular options for your English Proficiency test: the CELPIP test and the IELTS test. Both agencies are recommended by the IRCC and have a very good reputation. CELPIP however offers a more interactive experience by offering practice tests, tips, and suggestions on how to perform your best in the test. Please note that you must take the CELPIP-G when applying for immigration programs.

About the CELPIP Test

The CELPIP Test is run by Paragon Testing Enterprises which is a subsidiary of the University of British Columbia. Based out of Toronto and Vancouver, CELPIP is an international testing service offering English Language Proficiency Tests worldwide. You can take the CELPIP test in one of many locations around the world. The test is currently available widely in Canada but also in Singapore, UAE, Philippines, India, China, and the USA.

You can sign up to take the test by going to the CELPIP website and click on the option of "Find a Test Date". The easy-to-use interactive website makes it easy for users to navigate the website and book a test date. Booking a test date is one step forward to getting an approved Express Entry. It is important to remember that you must aim for higher points in the test. The only way you can achieve a high score is by studying for the test no matter what your English proficiency level is. This is a very common mistake we see as native English speakers believe that they do not need to prepare for the CELPIP. We only have one piece of advice for the test-takers which is to study! Study hard!

Registration Process

Registration for the CELPIP is made very simple by the interactive and easy-to-navigate CELPIP website. In the next step, you will be required to select a test. I would like to remind you that at this step, you are required by the IRCC to select the CELPIP-General which tests four skills: listening, reading, writing, and speaking.

In the next step, you will be required to state your primary reason for taking this test. You will be required to select the IRCC option and Immigration/Permanent Resident (PR) status in Canada option underneath. Next, you will be required to select the country of your preference where you can take the test. With numerous locations worldwide, CELPIP offers numerous options for you to take your test. You will next be required to fill out your personal information after selecting a time slot for your test. The personal information includes your name, email, birth date, and gender. You will be further required to provide proof of identity which is generally any government-issued ID to identify you and authenticate your identity. The final step is to confirm the information you provided and paying the fees. Fees depend on the country where you take the exam. In Canada, the fee to take the CELPIP is $280 CAD.

Preparation

We at Second Passport consider this the most important step in the process of completing your CELPIP test. We cannot stress enough how important it is to prepare yourself for the test. I like to use the analogy of a driving test. You may refer to yourself as the best driver in the world but the only way to do great in the driving test is by getting familiar with the test and practicing. CELPIP provides you with numerous resources to practice for the exam. It is important to schedule enough time to study before the test and familiarize yourself with the layout of the test.

CELPIP's website offers multiple resources which can be helpful to you during your preparation stage. The website offers more than 10 hours of free webinars and free sample test sample tests. You can also attend scheduled preparation classes in person in a location closest to you. These are often paid classes that you can attend to get a better understanding of the test and it a great opportunity to ask any questions which you might have regarding the test.

Free resources such as speaking pro, writing pro, reading pro, listening pro, and study tips videos are also made available for your convenience on the CELPIP website. It is important that you can take advantage of free prep material as it is of no charge to you, and it is a great opportunity to familiarize yourself with the test. Webinars are also added on the CELPIP website and we have heard great feedback about them. Webinars give you a general insight into the test and provide you with any information or tips that you should know before you enter the exam room. Webinars are structured to ensure that you get all the information you need to know regarding the areas on which you will be tested. You will also have access to blogs on the CELPIP website which are updated regularly to keep you in the loop regarding any changes to the test or just to provide you with more tips and information regarding the test.

Test Format & Our Tips

The test authorized by the IRCC for you to take is the CELPIP-General test. It is a single 3-hour test that can be completed in one sitting. The CELPIP-General test has four components that you will need to complete. These components include listening, reading, writing, and speaking. Each testing component has an allotted time which they will need to be complete.

Listening
For the listening component, you are given 47-55 minutes to listen to the passage and answer the given questions. The listening component is divided into 6 parts including a practice task. Only one question will be asked regarding the practice task.

Part 1 requires listening to a problem-solving question and answer 8 questions that will be asked. In Part 2, you will be required to listen to a daily life conversation and answer all 5 questions which will be asked of you. In Part 3, you will be required to listen for information being provided and answer the 6 questions provided. Part 4 requires you to listen to a news item and answer five questions. Part 5 has 8 questions, and you will be required to listen to a discussion. Lastly, part 6 has 6 questions and you will be required to listen to viewpoints. In total, you will have to answer 39 questions within 47-55 minutes.

Our best tips for the listening portion of the exam are to practice listening and then writing with your partner, friends, or family. This is a great way to practice listening and then responding accordingly. Further, listening to English radio, television, and film and then writing about the shows, is a great way to absorb the English language. There are more tips provided by CELPIP here.

Reading
For the reading component of the test, you are given 55-60 minutes to respond to 39 questions. The first question is a practice task to respond to. Part 1 has 11 questions, and you are required to read the correspondence. Part 2 of the component requires you to read to apply a diagram that has 8 questions. Part 3 consists of 9 questions and requires you to read for information. Finally, Part 4 requires you to read for viewpoints and consists of 10 questions.

Our best tip for reading is to simply practice reading a variety of materials, including books, magazines, newspapers, advertisements, and guidelines. The test provides excerpts from various types of material, so it is best to be familiar with all types of writing. There are more tips provided by CELIPIP here.

Writing
You are given 53-60 minutes to complete the writing component. The writing component only has two tasks. The first task requires you to write an email and the second task requires you to respond to survey questions. Both tasks have one question each.

Our best tips for the writing portion include practicing writing letters, emails, and notes. Further, because it is handwritten, it is best to practice handwriting rather than typing. Lastly, and we find most people, especially Americans, struggle with is Canadian grammar and formatting. Some words in Canadian are spelled differently, such as favour, colour, neighbour. This is important to note so small mistakes are avoided. There are more tips provided by CELIPIP here.

Speaking
The speaking component is something a non-native English speaker might struggle with the most. You are only allotted 15-20 minutes for the speaking component. The speaking component has 9 questions in total including a practice task. Below is the breakdown of the speaking component:
Task 1 - Giving advice
Task 2 - Talking about a personal experience
Task 3 - Describing a scene
Task 4 - Marking predictions
Task 5 - Comparing and persuading
Task 6 - Dealing with a difficult situation
Task 7 - Expressing opinions
Task 8 - Describing an unusual situation
Our best tips for the speaking section are to practice speaking with your partner, friend, or family member. As the tasks are provided to you, we recommend practicing in the tested tasks for the utmost preparation. There are more tips provided by CELIPIP here.

Test Scores

The CELPIP test scores are made available to you online through your CELPIP account 4-5 days after the test date. After completion of the test, you will receive an email confirming that your scores are available. You will be able to download your test results in PDF form and your test results can be assessed for 2 years from your test date on your CELPIP account. Please note that a hard copy of the official score report can be ordered for $20 CAD. The highest you can score on the CELPIP test is CELPIP level 12. This indicates that you have advanced proficiency in the workplace and community. CELPIP level M suggests that you have minimal proficiency or insufficient information to access.

Impact of COVID-19

Due to the impact of COVID-19, Paragon Testing has significantly reduced the volume for the CELPIP test due to government restrictions on indoor gatherings. As of today, you cannot take your CELPIP online and you are still required to take the test in person. There are procedures in place to ensure that you and the staff at the testing facility are protected from COVID-19. These practices include physical distancing with reduced numbers of staff and test-takers and usage of personal masks during the entirety of the test. With changing situation surrounding COVID-19, it is important to call and check with the test facility to ensure a safe and speedy process.

Final Thoughts

CELPIP is an option for you to meet the language proficiency requirement for you to immigrate to Canada. With all the practice material provided by CELPIP, it is important to prepare for the test and give yourself enough time before the test to study. Native English speakers always make the mistake of not preparing for the test. We at Second Passport always recommend for our clients to practice, no matter their proficiency level, as preparation is key in every aspect of immigrating to Canada. It is important that you take advantage of all the material provided to you by CELPIP to ensure that you excel during the test as the test outcome does impact your Express Entry process.

If you want to learn more about CELPIP and preparation tips, check out our Masterclass with the CELPIP team!
---
Ready to get started? Here are three ways we can help:
1. Join our Facebook Community to connect with an amazing group of Second Passporters... This is a space where the community can share information, updates, and connect as a group of people with all the same goals!
2. Subscribe to our YouTube Channel to help you prepare for your new journey of immigrating and settling in Canada!
3. Ready to begin your journey? Join our 5-Day Immigration Blueprint Challenge. By the end of the 5 days, you will have an Immigration Blueprint™ outlining your pathway to Canada.