How Can I Use my Business to Immigrate to Canada?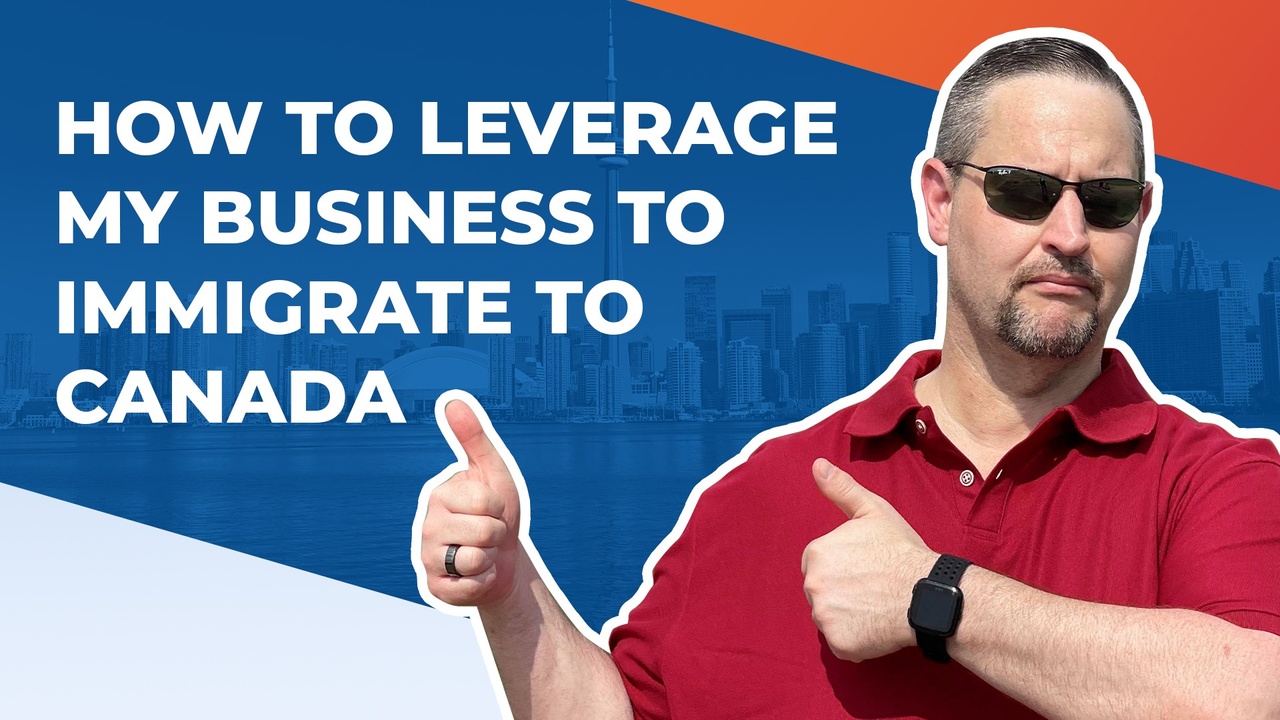 There are multiple ways for foreign nationals to immigrate to Canada. Did you know there are 75+ immigration programs? The way in which you can immigrate to Canada can be broken down as a classification of admission category of immigrants. This classification has different categories of admission into Canada: Economic immigration, Family Sponsorships, Refugees & Protected Persons. Immigrants sponsored by their families are usually invited by their families to Canada. They are also referred to as family class or family reunification class as the purpose of the category is to bring families together. Under the refugee class, individuals are accepted into Canada as they have a well-founded fear of persecution due to race, religion, nationality, membership in a particular group, or political affiliation. These individuals are usually seeking protection against persecution in their countries of origin.

Having a business is a very substantial way for you to immigrate to Canada and you can surely leverage your existing business of expertise to be able to come to Canada, even if you are older and are not doing well points wise under Express Entry.

If you are looking to use your business to immigrate to Canada, you will be under the economic migrant category, which we are going to speak about today. Immigrants through the economic programs are selected to come to Canada as their businesses will contribute to the Canadian economy. This is often done by economic immigrants' ability to own, manage or build a new business in Canada and bringing foreign investment into Canada's economy.

Economic immigrants further benefit the Canadian economy by meeting the labour market needs and by creating employment for Canadians. This is why this is one of the main pillars of the Immigration & Refugee Protection Act (IRPA). With overall benefits to Canada, economic immigration is highly favoured by the Canadian Government. There are many different business programs that are available (mostly through the provinces these days) but for the sake of this posting, we are going to concentrate on popular programs that are offered by the Federal government. The Business Immigration Programs that we will cover in this posting are the Self-employed Person Program and the Start-up Visa program. We also need to speak about the International Mobility program, how this can get you here through a business and set you up for success. Both programs encourage foreign nationals to settle into Canada for starting businesses which can strongly benefit the Canadian economy.

Self-employed Persons

To qualify for the Self-employed Persons Program, you must have relevant experience in cultural activities or athletics at an international level and you must be willing to make a significant contribution to the cultural and athletic life of Canada. The self-employed person category is based on a selection criteria points system. The higher your points, the higher the likelihood of you being admissible to Canada under this program. Your further eligibility will depend on your relevant experience, willingness to be able to be self-employed in Canada, meeting the program's selection criteria, and meet medical and security conditions of Canada. Pretty simple right?

Your relevant experience must include taking part in cultural and athletic activities on an international scale and you must have been self-employed in cultural and athletic activities. For relevant experience, you are asked to show that you have at least two years of experience. This experience must have been gained in the last 5 years before the day you apply. It is to be noted that you will get more points if have more than two years of experience in the relevant fields. For cultural activities, you must demonstrate that you were self-employed in cultural activities for two one-year periods. You must also demonstrate that you participated in international-level cultural activities for two-one-year periods. For athletics, you are required to prove that you were self-employed in athletics, and you participated in international level athletics for two-one-year periods.

You must also be able to meet the selection criteria set out for self-employed persons. The selection criteria include assessing your experience, education, age, language abilities, and adaptability. To score the maximum points of 25 on your education, you must have a master's degree or Ph.D. To score the maximum points of 35 on your experience criteria, you must have relevant experience of five years. You will score the maximum points of 10 for age if you are between the ages of 21 and 49. For the language ability criteria, the maximum points are 24 and you are tested on your listening, speaking, reading, and writing skills.

You and your family are further required to have medical exams and provide police certificates. Your medical exam must be done with the appropriate panel physician selected by the Government of Canada in your country of origin. To apply, please ensure that you have given your biometrics. To apply, you put to get the application package, pay the application fees, and submit your application. The whole processing time can take up to 34 months and fees start from $2,075 CAD. Please note that COVID-19 might impact the processing dates.

Start-up Visa Program

The target of the Start-up Visa Program is international entrepreneurs who have the potential to build and run businesses in Canada. The goal of the start-up visa program is to bring innovative businesses to Canada to create jobs for Canadians and have these businesses compete on an international level. To be able to qualify under the start-up visa program, you must get approval and funding from the list of designated organizations.

These designated organizations invest in start-ups through the start-up visa program. You must have an innovative idea to present one of the designated organizations and with their funding, you might be able to immigrate to Canada to work on your own start-up with the designated organization's funding. The designated organizations are divided into three different groups: Venture capital funds, Angel investor groups, and business incubators. For Venture Capital Funds, you must get one of the designated organizations to agree to invest a minimum of $200,000 into your innovative idea to get the opportunity to come to Canada and establish an innovative business. For the Canadian Angel Investor Groups, you need a minimum of $75,000 funding to be able to come to Canada to run your business. Please note that you do not need monetary investment from a business incubator. You need to be accepted into a Business Incubator Program. Business Incubator Programs will give your young company mentorship, investors and help you grow your company into a reputable institution. You must present your innovative ideas to these designated organizations and if they show a willingness to invest, they will provide you with a letter of support. A letter of support is simply proof that the organization will be willing to support your ideas and your business.

The Start-up Visa Program is highly competitive as you are required to do your part by coming up with an innovative idea and you must have an entrepreneurial mindset. Each of the organizations has its own intake processes for which they might require you to present a business plan or business concept in person. To be eligible, you must have a qualifying business that will help you get support from a designated organization. You must also meet the language requirements to be eligible and you must also bring enough money with you to be self-sufficient in Canada. If you already have a business in your country of origin, you must present your business idea to one of the designated organizations. They may require you to present your business plan to get a better understanding of your business model. The whole process should take around 12 to 16 months and while this might sound easy, it can be if you are guided properly and are using the right people to make sure that you are taken care of.

International Mobility Program

International Mobility Program allows for intra-company transfers to Canada. Transferees under this program can apply for work permits to work within Canada. To be eligible, you must:
Currently be employed by a multi-national company, and you are looking to work in a parent, subsidiary, branch, or affiliate of the company;
You will be undertaking employment at the legitimate and continuing affiliation of that company;
You are getting transferred to a position of an executive, senior manager or have specialized knowledge capability;
You have been directly employed by the same company that plans to transfer you to Canada in a full-time position for one year within the last 3 years; and
You state that you are entering Canada for only a temporary period, and you will comply with all immigration requirements needed for temporary entry.
The duration of work permits is generally one year, but this is subject to renewals. The duration of the work permit may also depend on the position you hold in the company. For renewals, you must prove that you and the company you were employed by still have a qualifying relationship and the new office has provided goods and services for the past year. It is also a requirement that the office is staffed for work permit renewal. This can be a great avenue for large companies to move around personnel but also for a small business owner to leverage their business and use this to transfer themselves into a Canadian Branch. After an intra-company transferee has completed their maximum work permit duration, they will be required to complete one year of full-time employment in the same company outside of Canada before applying again to return to Canada. That is why it is extremely important to have a full strategic plan for not only the business operations but the parallel immigration planning that needs to happen as well.

Final Thoughts

Canada strongly encourages entrepreneurs and business owners to move to Canada to diversify the Canadian economy. This is apparent as Canada is part of the General Agreement on Tariffs and Trade (GATT) and the Canada-United States-Mexico Agreement (CUSMA aka the New NAFTA) as an example of some of the more popular trade agreement. Both agreements symbolize Canada's need to diversify its economy by attracting foreign investments and foreign entrepreneurs to settle in Canada thus creating more jobs and attracting more foreign investment into Canada. Most people are unaware that Trade agreements always come with worker mobility provisions which makes sense as this surely is a function of trade but if you know what they are and how to utilize them, you can use these and leverage for the betterment of your business and your immigration to Canada.

Programs such as self-employed persons, start-up visa programs, and international mobility programs allow Canada to invite foreign nationals to Canada to fulfill its economic needs by inviting start-ups and highly skilled workers to make the Canadian economy more competitive on a global scale. Each program caters to a different demographic of skilled workers that Canada wants to attract. The self-employed person program attracts cultural workers and athletes who can further improve athletics and cultural understanding in Canada. The Start-up Visa Program attracts international entrepreneurs and business owners who seek to settle in Canada. This program is highly competitive and requires entrepreneurs to seek Canadian funding from designated organizations. International mobility program is for a foreign national who seeks to work in Canada via multi-national organizations. They are usually transferred to Canada to work in highly skilled roles within multi-national organizations in Canada. The route you choose to immigrate to Canada will depend on your circumstances as a business owner or a highly skilled worker, therefore, it is important to look at all the programs carefully before making a selection.
---
Ready to get started? Here are three ways we can help:
1. Join our Facebook Community to connect with an amazing group of Second Passporters... This is a space where the community can share information, updates, and connect as a group of people with all the same goals!
2. Subscribe to our YouTube Channel to help you prepare for your new journey of immigrating and settling in Canada!
3. Ready to begin your journey? Join our 5-Day Immigration Blueprint Challenge. By the end of the 5 days, you will have an Immigration Blueprint™ outlining your pathway to Canada.