How Much Does It Cost to Live in Canada?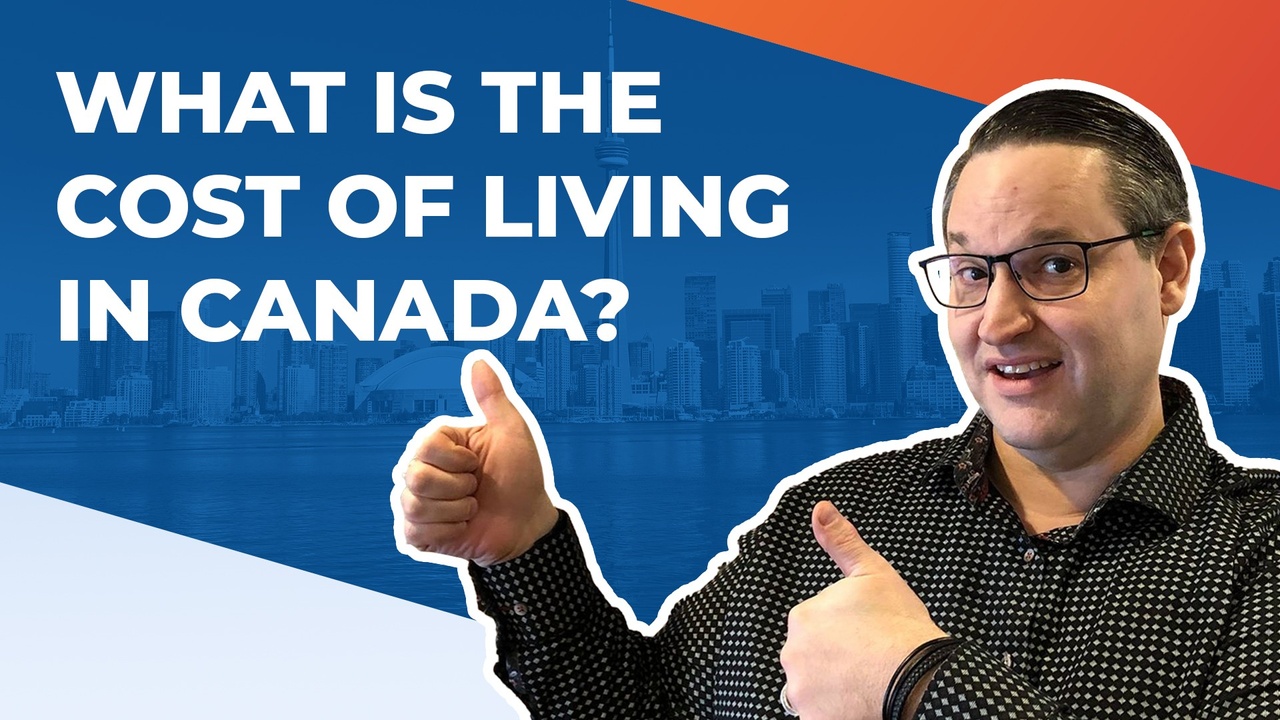 Costs are something that we are all mindful of and you surely need to be aware of this when immigrating to Canada. This blog is going to discuss the costs of living in Canada once you arrive. We are going to break down the costs of living in Canada depending on location, urban and rural living, taxes, and the LICO.

One of the biggest expenses that you may not think of during the immigration process is the cost of living in Canada and how that will impact your financial situation. It is very important that you have an idea about this before you immigrate. The cost of living in Canada is directly related to where you choose to live Canada.

Canadian urban centres have a higher cost of living than the rural areas of Canada but living in rural areas might not be something that interests you. Some of the expenses of living in Canada can include the cost of housing, food, transportation, and clothing, etc. It is important to consider these costs before you decide where to settle in Canada. During your decision of where to settle in Canada, you should consider the following factors: cost of rent or a mortgage, job market, proximity to schools/universities, cultural support groups, and availability of other social services (e.g., hospitals, employment assistance, daycare, mental health care).

The decision of choosing between settling in rural or urban Canadian cities can be a difficult one as the costs of living urban tend to be significantly higher than rural living. Rural cities might not have services that you require in the first couple of years in Canada such as jobs, educational institutions, or groups with a similar ethnic background as you who might be able to provide support and help you settle into the community. Choosing where you wish to settle in Canada is a big decision for most people, and it should be considered well before you make the move.

What is LICO?

The Low-Income cut off (LICO) is one of the measures used by Statistics Canada to determine how many Canadians are in a low-income family. LICO should be able to provide you with an estimate of how much you need to be making in Canada to be above LICO. LICO is always a good indicator of how much the cost of living in Canada's urban and rural areas is for you to determine your place of settlement. But please take the LICO levels with a grain of salt as it is often argued by many that the costs of living are higher than presented on the website.

The LICO is determined by analyzing how much income a family earns in a year and how much of that income is devoted towards necessities of food, shelter, and clothing. If a family is likely to devote a huge amount of its yearly income to necessities like food, shelter, and clothing, they are likely below the LICO. Statistics Canada conducts a Family Expenditure Survey to determine seven different cut-offs for families ranging from one to seven people. The cut-offs are then compared to the Survey of Consumer Finances to determine low-income rates. It is important to remember that LICO is subject to yearly change. Below is the LICO table for the year 2019.
Community size 4

Family size

2019

Rural areas

1 person

14,325

2 persons

17,436

3 persons

21,711

4 persons

27,085

5 persons

30,843

6 persons

34,206

7 persons or more

37,568

Population under 30,000

1 person

16,394

2 persons

19,955

3 persons

24,846

4 persons

30,998

5 persons

35,298

6 persons

39,147

7 persons or more

42,995

Population 30,000 to 99,999

1 person

18,289

2 persons

22,260

3 persons

27,718

4 persons

34,581

5 persons

39,378

6 persons

43,672

7 persons or more

47,964

Population 100,000 to 499,999

1 person

18,520

2 persons

22,540

3 persons

28,068

4 persons

35,017

5 persons

39,874

6 persons

44,221

7 persons or more

48,568

Population 500,000 and over

1 person

21,899

2 persons

26,653

3 persons

33,189

4 persons

41,406

5 persons

47,148

6 persons

52,289

7 persons or more

57,429

The LICO table shows the sharp contrast between urban and rural Canada. Rural Canada has a much lower cost of living compared to the urban areas of Canada.

Urban Canada

Urban cities in Canada tend to provide you with the most opportunities as you settle in Canada. The biggest urban centres in Canada include Toronto, Montreal, and Vancouver. According to the United Nations Development Program, 81.48% out of 37.4 million Canadians were living in urban areas in 2019. The push towards migration to urban areas is fueled by growing job industries (manufacturing, finance, construction) in the urban areas of Canada. Trends show that an increasing number of young adults are leaving rural areas and migrating to urban areas causing a steep decline in rural populations. The cause of migration from rural areas is mainly due to lack of diversity in the jobs sector which is mainly dominated by mining, oil, and gas jobs in the rural areas of Canada, whilst urban areas offer much more diversity in the jobs market. The huge surge in migration to urban areas has also had adverse impacts on the cost of living in the urban cities of Canada. The growing population rates in urban Canada are also driving up the cost of living in urban cities of Canada, where the prices of rent and food have continuously risen in recent years.

In the last few years, Toronto, Montreal, and Vancouver have seen exponential growth in population leading to a rise in the cost of living which has caused them to be the most expensive cities in the country. Let's dive into the cost of living in these major urban centres in Canada.

Toronto, Ontario
Toronto, Ontario is the largest metropolitan area in Canada. According to the 2016 census, the population of Toronto was 5.9 million in 2016. According to the census, most Torontonians in 2015 over the age of 15 had a yearly income of $10,000 to $19,999. Looking at the LICO, this would put the majority of Torontonians under the cut-off. An estimate provided by the lowestrates.ca stated that the average yearly cost of living in Toronto is $36,104 for people who commute to work. Further, the cost of transportation in Toronto (based on TTC and Uber/Cabs fare) was around $263 in 2020. Food prices in Toronto have increased in past few years. According to the Nutritious Food Basket Calculator provided by the City of Toronto, the monthly cost of food for a 19-30 year old male is approximately $340.23 and $264.48 for a female in that age range. It is to be noted that sanitary items such as toilet paper, soap, diapers, shampoo, etc. are not included in the monthly figure, which adds extra costs to most households.

The biggest expense you are likely to incur whilst living in Toronto is the cost of housing. Toronto is the most expensive city in Canada to rent in due to the high demand for rentals. According to Rentals.ca's December 2020 report, an average one-bedroom apartment averaged at $1,877 per month. This is the highest amount paid for a one-bedroom apartment anywhere in Canada. The price for an average two-bedroom apartment was $2,468 in 2020. It is to be noted that COVID-19 had a huge impact on the prices of rentals in 2020 and 2021. The average price of a one-bedroom apartment dropped by 19% in 2020 and the cost of an average two-bedroom apartment dropped by 17.2% in 2020 from 2019. The cost of living in Toronto is one of the highest in Canada and often requires a stable income to enjoy the city life.

Montreal, Quebec
Montreal is the second biggest city in Canada and the largest French-speaking city in Canada by population. According to the 2016 census, Montreal is home to around 4.1 Canadians. Just like Toronto, the majority of the population in Montreal had a yearly income of around $10,000 – 19,000 in 2016. The survey also shows that around 2.6 million residents of Montreal identified French as their native language which makes French the most spoken language in Montreal. This is an important statistic to remember as fluency in French is required in many of the professions in Montreal. You will have to be comfortable with communicating in French as a majority of Montrealers communicate in French.

Though Montreal is the second-largest city in Canada by population, the cost of renting is much lower than the Greater Toronto Area and Vancouver. According to Rentals.ca, the average price of a one-bedroom apartment in Montreal is $1,454 and the average price for a two-bedroom apartment is $1,889. The rental prices in Montreal are significantly less than in Toronto and Vancouver. The cost of transportation is also significantly less in Montreal compared to other urban centers. The cost of a monthly STM pass is $86.75. Furthermore, Montreal is also more affordable when it comes to grocery items. An estimated $299.92 is the cost of monthly groceries in Montreal. Montreal could be an excellent option for you to settle in given its affordable cost of living. It could be a great option for you if you are fluent in French, as well as English.

Vancouver, British Columbia
Vancouver is located on the West Coast of Canada and it is the third-largest metropolitan area in Canada. Vancouver has a population of over 631,486 according to the 2016 census. Just like Toronto and Montreal, the majority of Vancouver's population has yearly earnings of around $10,000 to $19,999. Vancouver is also the second most expensive city to rent in. The Rentals.ca report shows the average cost of a one-bedroom apartment in Vancouver is $1,865 and $2,636 for a two-bedroom apartment. Unlike Toronto, the COVID-19 pandemic did not have a huge impact on the rental market as rents only fell 5.2% in Vancouver. The cost of a monthly pass for public transportation is $98. The monthly food expenses are estimated to be around $337.10. Vancouver could be a great option for you to consider settling in, but it is important to consider the cost of living and the job opportunities you might find in Vancouver.

Taxes in Canada

Taxes are another thing to keep in mind when evaluating the cost of living in Canada. Your income earned in Canada is subject to Federal and Provincial taxes. These taxes are imposed on your income and are automatically deducted from your pay every pay period. The rate of these taxes depends on how much income you earn in a year. The breakdown of income tax can be found on the Government of Canada website.

Besides your income tax, you are also subject to the sales tax, also known as GST/HST. Every province has a different rate of sales tax. The sales tax (GST) is 5% for Alberta, British Columbia, Manitoba, Northwest Territories, Nunavut, Quebec, Saskatchewan, and Yukon. Ontario has HST which is 13% and HST is 15% for New Brunswick, Newfoundland and Labrador, Nova Scotia, and Prince Edward Island. Seeing all these tax rates could be overwhelming, but it is important to remember what your taxes are put towards and the social benefits you receive for taxes. You are subject to universal healthcare, tax incentives, education assistance, and social programs such as Employment Insurance, Ontario Works, Ontario Disability Support Program amongst others.

Although foreigners are sometimes frightened by the "high" amount of taxes in Canada, most people agree that the benefits they receive in Canada are well worth it. Also, you need to understand that depending on your wage (ie: if it is lower) then you are most likely going to be looking at a tax refund. Taxes should not be feared if you invest in a tax professional while engaging in some financial planning you will find that the system will work for you, and you will surely be further ahead.

Final Thoughts

The question regarding the cost of living in Canada is impacted by many factors. The cost of living is significantly higher in the urban cities of Canada compared to rural areas. Though the cost of living is less in rural Canada, there might not be access to social services or a thriving job market in rural Canada. Tax rates may also impact your decision regarding which province to settle into. It is important that you consider all the factors mentioned before deciding on your choice of settlement.
---
Ready to get started? Here are three ways we can help:
1. Join our Facebook Community to connect with an amazing group of Second Passporters... This is a space where the community can share information, updates, and connect as a group of people with all the same goals!
2. Subscribe to our YouTube Channel to help you prepare for your new journey of immigrating and settling in Canada!
3. Ready to begin your journey? Join our 5-Day Immigration Blueprint Challenge. By the end of the 5 days, you will have an Immigration Blueprint™ outlining your pathway to Canada.