Why Did I Get a Procedural Fairness Letter?!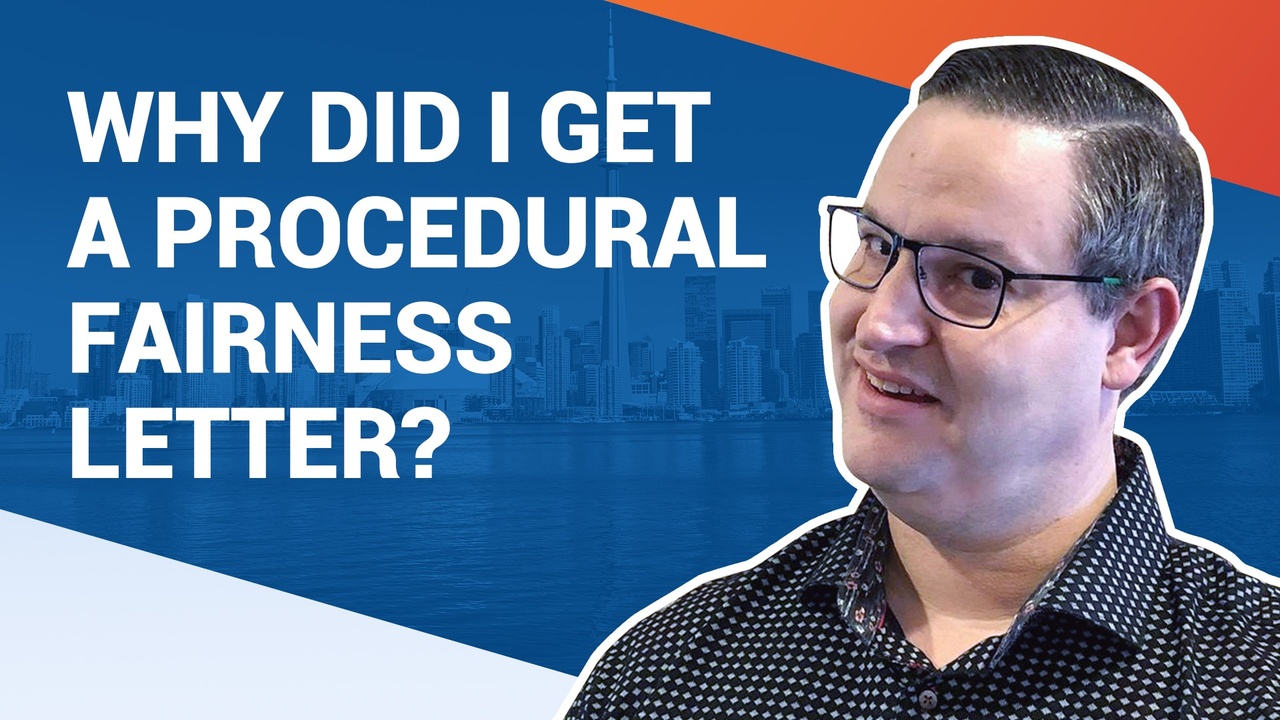 Today we will talk about the concept of procedural fairness — what it is, where it comes from, and how it affects your application to immigrate to Canada. We will begin with looking at what a procedural fairness letter is and what to do when you receive one. We will then look at procedural fairness overall, how it relates to immigration applications, and we will discuss the case of Baker v. Canada which is foundational to procedural fairness and immigration law.

What is a Procedural Fairness Letter?

A procedural fairness letter is a document you may receive from the IRCC if your application for a temporary visa, permanent resident visa, refugee status, or Canadian citizenship is about to be rejected. It is designed to let you know any problems with your application prior to its refusal and to give you the opportunity to correct any errors or problems in your application before it is refused. In Canadian immigration law, these problems with immigration applications are referred to as inadmissibility and can happen on medical, criminal, human rights, and security grounds. It can also occur if you make an application to immigrate to Canada in bad faith. After you receive a procedural fairness letter, you may want to contact an immigration professional (a registered immigration consultant or paralegal, or lawyer with an immigration specialization) for assistance in responding to the contents of the letter. A procedural fairness letter gives you a warning, so you should work to answer the questions raised in the letter to resolve these issues prior to refusal.

If your application is refused, you will receive a decision letter from the IRCC, the letter will detail the reasons as to why your application was refused. You then have the right to appeal either before the Refugee Appeals Division or the Immigration Appeals Division. This is part of procedural fairness as well.

Where Did Procedural Fairness Come From?

We've now discussed the logistics of how to deal with a procedural fairness letter and a decision letter, so now we will look at why you receive these letters to begin with. The idea of procedural fairness is a key concept in Canadian law, particularly a type of law in Canada called administrative law. Administrative law is any type of law where an officer, board, or tribunal decides about a legal matter.

In the case of immigration law, an officer of the IRCC makes the initial decision when they look at your application, and if the decision is appealed then it goes before a specific section of the Immigration and Refugee Board. In administrative law, decisions that have a larger impact on a person's life must meet a higher threshold of procedural fairness. Because immigration and refugee status are so important to an individual's life and livelihood there must be a very high level of procedural fairness met. Procedural fairness means that applicants are provided with an unbiased assessment, informed of any concerns that the IRCC has about the application, and be given the opportunity to respond to those concerns. Sending you a procedural fairness letter is doing exactly that.

There are several key parts of procedural fairness. The first is processing without delay. This means that your application will be looked at and processed in a timely matter. There are also set rules that govern the appeals process for the Immigration Appeals Division and the Refugee Appeals Division, many of these rules set time limits for receiving reasons and submitting documentation, this is all part of the right to have an application processed without delay. The right to fair and impartial decision-making is the next component of procedural fairness. This means that an applicant has the right to have a decision-maker who is unbiased and who does not have the possibility of bias. Bias means to judge something before it happens. But bias can seem possible based on a decision maker's previous involvement in the case, their relationship with an involved party, or their attitude before the case is heard.

The applicant's right to be heard is another core component of procedural fairness. This means that the person applying for a visa or citizenship has the right to know the elements of their case and be allowed to respond. This is where procedural fairness letters become very important, they are a key part of advising an applicant that their application needs additional information or that they are possibly inadmissible. Similarly, interview invitation letters should give the applicant enough information about any issue so that they can respond appropriately. Having interpreters available for applicants is also a very significant component of the right to be heard. As in Krishnamoorthy v. Canada, a 2011 Federal Court decision, the IRCC must advise the applicant under which parts of the act they are inadmissible.

Another significant idea is that whoever hears must decide. This means that the officer or decision-maker who reviews the applicant's material must be the person who decides whether or not their visa or citizenship application is accepted. This is somewhat flexible, as applications can be transferred between officers, but there should be notes made in the file that this has happened. An applicant may also receive a new procedural fairness letter or be given a new opportunity for an interview when this occurs. This is in spirit with keeping things as fair as possible for the person applying for a visa or citizenship.

Legitimate expectation means that when an applicant is told that the procedure for an application goes a certain way (has certain deadlines, is looked at by decision-makers, etc.) then that procedure is followed. Decisions must also be based on the Immigration and Refugee Protection Act and Regulations. If an application is rejected, then the reasons for the rejection must come from the act. The reasons for inadmissibility are on security grounds (i.e. espionage), human or international rights violations, serious criminality without rehabilitation, organized criminality, and health grounds (prohibitive medical costs or a danger to public health and safety). One of these reasons must be given in a procedural fairness letter or a refusal letter. Knowing the reasons for their procedural fairness letter or the rejection of their application is imperative for giving the applicant a fair opportunity in their application process.

Baker v. Canada

Yes, I know, case law… It's boring and no one wants to read it, but this is a good story. I typically agree, but in terms of procedural fairness, this landmark case is essential to understand where this term came from. The case of Baker v. Canada is a supreme court of Canada case that is binding in how it sets out the definition for procedural fairness and its requirements. This is a particularly significant case to immigration law because it concerns a refugee application and a discussion of whether it was handled in a procedurally fair way.

In 1999 the Supreme Court of Canada heard the case of Mavis Baker, the appellant. She was applying for permanent residence but had Canadian-born dependent children. Baker was ordered to be deported. She applied for exemption from deportation on humanitarian and compassionate grounds, using letters about the availability of medical treatment in her country of origin and the difficulty that her children would face without her. An immigration officer responded to her application stating that there were insufficient humanitarian and compassionate grounds to process her application. The letter did not explain the reasons for the decisions. Baker applied for judicial review at the Federal Court, this then went to the Court of Appeal. The deportation order was stayed, and this appeal was held in the Supreme Court of Canada's decision. The appeal was held in the Supreme Court because she did not receive procedural fairness: she was not given a letter that described the reasons why her application was refused.

Baker v. Canada states that "a duty of procedural fairness applies to humanitarian and compassionate decisions." Immigration and refugee status, because of the nature of these cases have a stricter requirement for procedural fairness. In this case, though there were a lot of opportunities for the government to produce documentation that gave reasons for the Baker rejection. But she was not given this documentation (such as the immigration officers' notes), nor did she have access to an immigration hearing. Because so much was at stake for Baker, it is important that the government adhered to principles of procedural fairness. This is true in all immigration and refugee application cases.

This case also set out criteria from determining the duty of fairness which is: "(1) the nature of the decision being made and process followed in making it; (2) the nature of the statutory scheme and the terms of the statute according to which the body operates; (3) the importance of the decision to the individual or individuals affected; (4) the legitimate expectations of the person challenging the decision; (5) the choices of procedure made by the agency itself." We can see this idea echoed in how the IRCC operates overall, as outlined in the previous section. Procedural fairness letters form a very important part of these principles set out in the Baker case.

When you get a procedural fairness letter about your immigration application it should make clear how the decision was made, what parts of the Immigration and Refugee Protection Act are relevant to your case, the reasons for the decision, and how to appeal or respond to the letter. You also should be able to access the immigration officers' notes (who was making the decision) through an Access to Information and Privacy Request.

Final Thoughts

If you receive a procedural fairness letter, it is very important that you take the time to read through it carefully and collect the information necessary to help your case with the IRCC. It is strongly recommended to seek legal advice once you get a procedural fairness letter because the answer to this letter can impact your entire file and possibly, your Canadian future. This is generally the first step in the road to refusal while limiting your ability to appeal or ask for reconsideration.


---

Ready to get started? Here are three ways we can help:
1. Join our Facebook Community to connect with an amazing group of Second Passporters... This is a space where the community can share information, updates, and connect as a group of people with all the same goals!
2. Subscribe to our YouTube Channel to help you prepare for your new journey of immigrating and settling in Canada!
3. Ready to begin your journey? Join our 5-Day Immigration Blueprint Challenge. By the end of the 5 days, you will have an Immigration Blueprint™ outlining your pathway to Canada.