Can I Restore my Status in Canada?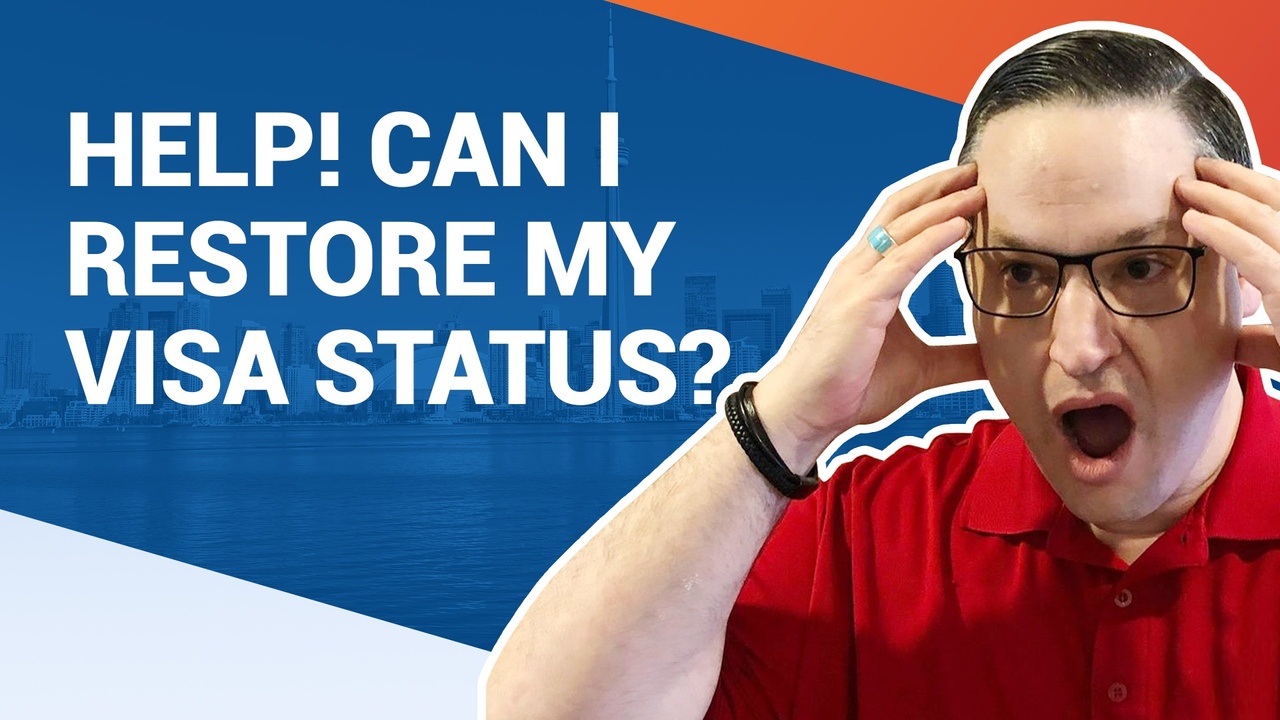 One of the things that might happen if you are in Canada temporarily as either a student or worker, is you may need to restore your visa status. This is not an ideal situation to be in at all, however it is pretty convenient that this option exists for people, as previously this accommodation was not available.

Ideally, you should apply to extend your visa before its expiration. There are, however, provisions in Canada's immigration policy that allows for the restoration of an expired or out-of-status visa. This article we will explore who is permitted to restore their visa status and the eligibility requirements for restoration, how to go about trying to restore your visa status, the way that Covid-19 has impacted visa restoration, and how to change conditions or extend your stay in Canada before you need to restore your visa status.

Who can Restore their Visa Status?

Temporary residents of Canada — individuals in Canada on visitor, student, and worker visas may apply to restore their visa status if they lose it or if their status expires. According to section 47 of the IRPA, there are three ways a foreign national in Canada loses their temporary resident status:
At the end of the period for which they are authorized to remain in Canada
On a determination by an officer or the Immigration Division that they have failed to comply with any other requirements of [the IRPA]
On cancellation of their temporary resident permit.

By far the most common way to lose temporary resident status is the first way, through the expiration of a work, student, or visitor visa. This type of loss of status is eligible to be restored if you pursue restoration of your visa status within 90 days after you lose it. Section 182 of the IRPA explains that to restore a visa status, an officer must examine the individual foreign national's case. If the officer can establish that the visitor, worker, or student meets the initial requirements of their stay, has applied for restoration within 90 days, and hasn't failed to comply with any of the visa conditions imposed, then their status should be restored.

One exception to this is if the immigration minister declares that the foreign national shouldn't be granted status, as justified by public policy considerations — this means that the minister believes the individual may be a danger to Canadian society. This is outlined in section 22.1 of the IRPA. The visa conditions an individual must adhere to both maintain their visa and have it restored is described in section 185 of the IRPA and includes criteria an officer can impose on a temporary visa such as the type and location of work, the educational institution or course, and the need to attend medical examinations.

So far, we've established that restoring your visa status is possible, but why should you do it as opposed to just leaving Canada immediately? There are two reasons for this. First, you are not eligible to have your visa restored if you are not in Canada. Your restoration of visa status will not happen and will be denied by an officer if you are outside of Canada. And second, if you leave Canada without restoration of your visa, then there is a chance that it will make you inadmissible to Canada in the future. For this reason, (that you cannot seek restoration of your visa from outside of Canada) restoration of visas is not available through the immigration officers at any Port of Entry (or border) of the country. Rather, any application for restoration of your visa status must be made within Canada.

Not only must an application for visa restoration be made within 90 days from your loss of visa status and within Canada, but there are also additional eligibility criteria that you need to meet for restoration. Mainly, you must apply to maintain the same visa status as the last one you held. This means that if you are a student, you must apply to retain your student status, and you cannot apply to restore your visa to a worker visa. Similarly, if you are in Canada on a work visa, you cannot apply to restore your visa as a student visa.

How to Apply to Restore your Status

If you lose your visa status you must immediately stop working if you are in Canada on a worker or student visa, and if you are a student you must stop studying at your Designated Learning Institution (DLI). To continue to work or study after your visa has expired or you've lost your status puts the restoration of your visa in jeopardy. In both cases, you apply for restoration of your visa through the IRCC application portal, which you also used to first apply for your visa.

To apply to restore a work visa, your employer must go through all the steps as if they were applying to extend or change your work visa. This means, that they must submit an LMIA if it is required, and they must submit the offer of employment. The exception to this is if the visa holder is in Canada on an open work permit, in which case, the employer does not need to submit an offer of employment. You then need to use the IRCC application portal discussed above.

On the form IMM 5710 under question three in the first section you must select "I am applying for one or more of the following" and "restore my status as a worker." You must upload a separate page in the "client information section" under "optional documents" in which you give reasons as to why your work visa fell out of status or expired. Detailed instructions on how to apply through the IRCC portal to restore your work visa are available here. While you wait for your new work permit and your restored visa, you may stay in Canada. You mustn't work during this time because you do not have the proper work visa.

Ideally, you will apply to extend your student visa at least 30 days before its expiration. If you do not do this, then you will need to apply to restore your status as a student. You will need all of the documents that you required for your initial student visa application and to apply through the IRCC portal, just as you initially did when you first applied for a student visa. When you apply be sure to include a note explaining the reason you need to stay and include the visa restoration fee. As a student, you may have brought a spouse, common-law partner, or dependent children with you when you came to study in Canada. They also may need their visa status to be restored.

Covid-19 and Visa Restoration

Covid-19 has changed immigration in Canada and around the world. Here it has also slowed the visa processing times. As a result, there have been changes to public policy that accommodate slower visa processing times due to Covid-19 and other issues that people might have with immigration in the pandemic. The changes to public policy provide individuals who have lost their visa status during the pandemic with additional time to restore their status, exempt eligible people from certain requirements of temporary resident conditions, and allow eligible people applying for a job offer-supported work permit to work while applications for visas and restoration applications are pending. To be eligible for any of these extensions, you must have been in Canada with a valid temporary visa between January 30, 2020 and May 31, 2021 and have remained in Canada since your entry.

During the pandemic, many people in Canada needed to renew their work or study permits to maintain their legal status and stay in Canada. But the pandemic has had an impact on temporary residents' ability to provide all the documentation necessary to complete their applications (employer or school documentation etc.). As a result, if you lost your visa status, or had your visa expire between January 30, 2020 and May 31, 2021, you had until August 31, 2021 to apply to restore your visa status, rather than the 90-day time limit. It was very nice to see that IRCC made these accommodations during the "exceptional times", and it would be interesting to see if there will be some longstanding changes that will result from this and other interim policies.

How to Extend your Student or Work Visa

If you are in Canada on a work permit, then you must apply to extend the permit at least 30 days before your current work permit expires. You also need to make an application if you do not have an open work permit and want to change the type of work you can do, your employer, or your work location. You can fill out your application online to extend or change your work permit. As discussed above, not extending your work permit (or changing it to accommodate your different work circumstances) will cause your work visa to fall out of status.

If you are in Canada on a study permit and it is expiring soon, then you must apply to extend your permit 30 days before its expiry. This deadline is particularly important to be aware of if you need more time to complete your studies than you originally planned. If you decide to change your post-secondary Designated Learning Institution (college or university) where you are studying then you need to apply to change your study permit. If you do not do this, then your original school will report to the IRCC that you are not registered to study and you will be breaking the conditions of your study permit. This will cause your visa to fall out of status and could affect your admissibility to Canada. If you change educational levels — for example from elementary to high school, or undergraduate to graduate school at the same DLI, then you do not need to change your study permit.

Also, it is important to strategically plan all of your immigration applications and ensure that you have a well thought out plan (and backup plan) going forward. This might include applying later for your Change of Status but prior to the expiry. This example would allow you the ability to continue working to gain valuable work experience that can be used for other immigration programs.

Final Thoughts

It is important to think of visa restoration as the worst-case scenario. Ideally, you should manage to change or extend your visa before the deadline. There are a lot of disadvantages to having to seek visa restoration, but the biggest one by far is that you cannot do any of the things you planned to do in Canada (study or work) while you wait for your visa to be restored.


---

Ready to get started? Here are three ways we can help:
1. Join our Facebook Community to connect with an amazing group of Second Passporters... This is a space where the community can share information, updates, and connect as a group of people with all the same goals!
2. Subscribe to our YouTube Channel to help you prepare for your new journey of immigrating and settling in Canada!
3. Ready to begin your journey? Join our 5-Day Immigration Blueprint Challenge. By the end of the 5 days, you will have an Immigration Blueprint™ outlining your pathway to Canada.