Before Immigrating to Canada: Know the Secret to Be Successful When you arrive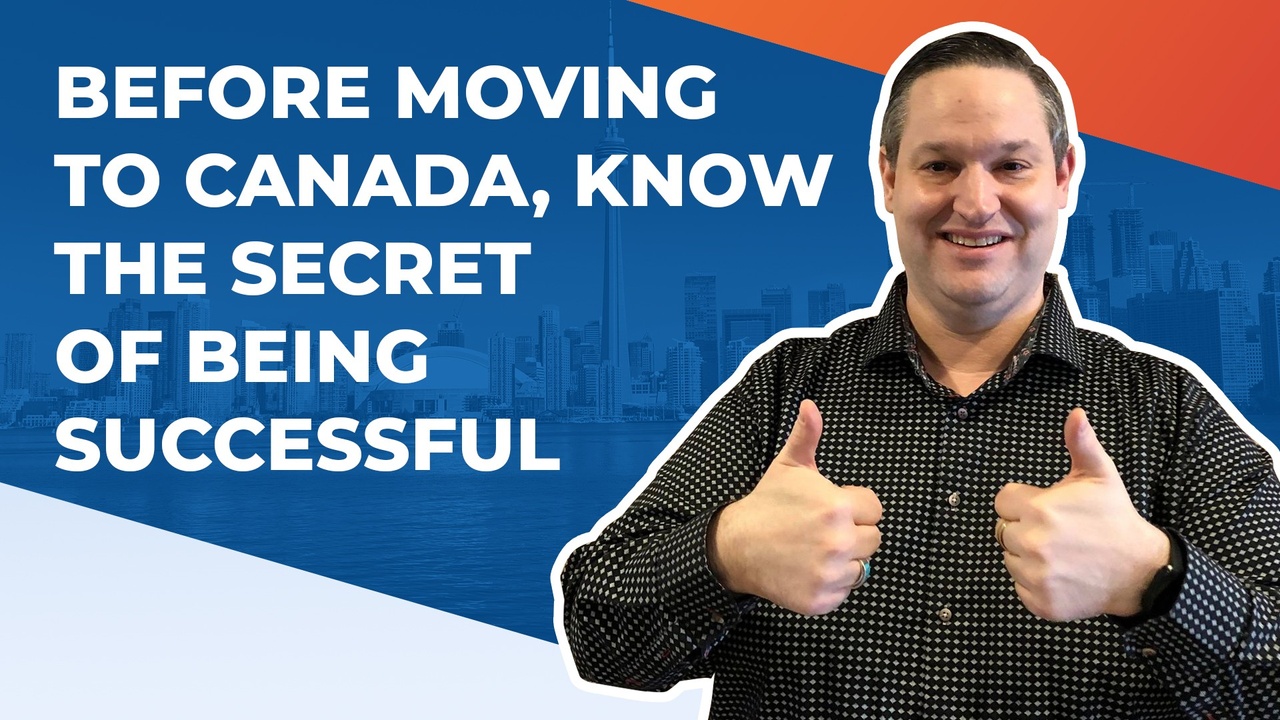 At Second Passport, we get plenty of questions on how to be successful in Canada after you arrive. Our answer is to have a settlement plan laid out ahead of time before you step inside Canada. We consider having a settlement plan as important as your immigration plan. Often, people immigrate to Canada and then ask, "now what?"

After many years with clients, we have found it is a better alternative to have a plan in action before you arrive in Canada. The preparation should begin as soon as you begin your immigration process. You should have some goals in mind that you want to accomplish in Canada. These goals can be related to your career in Canada or getting further education in Canada. In preparation, you should know your end goal in Canada. Are you coming to Canada to work or study and then head back to your home country? Is your end goal permanent residency and then becoming a citizen? These are the questions you should know before going through the immigration process.

People from all over the world immigrate to Canada for different reasons. Some want to pursue education, find a well-paying job, or start their own business. The end goal for most newcomers is usually to establish themselves in Canada and find a higher quality of life, compared to their country of origin.

Therefore, it is important to have a fully thought-out plan beforehand, so you are not stuck in a predicament where you are not sure what Canada has to offer you, in terms of your settlement program. It is important to remember that you understand what you will be doing in Canada and plan it accordingly before you arrive in Canada. In this blog, we will be going through our Immigration Success System and layout the importance of preparing, planning, and executing those plans.

Prepare

This stage of your process should begin before you even submit your immigrating application to Canada. You should have a clear picture of what you want to achieve in Canada. The end goal for every new Canadian is to be self-sufficient within months of their arrival in Canada. Preparing to be self-sufficient in Canada requires preparation, and lots of it, just like your immigration process. In this stage, we recommend that you prepare by thinking of realistic goals you want to realize in Canada and you could have multiple goals that you want to achieve. You might choose to prioritize some goals over others to get the most out of immigrating to Canada. Setting goals in this stage will help you plan and properly execute your plan as soon as you arrive and thrive in your life as a new Canadian!

Plan

In the first step, you start by preparing your goals. In the second stage of the process, you will need to plan exactly how you achieve the goals you prepared in the first step. This process should begin as soon as you are eligible to enter Canada.

If your goal is to receive education in Canada, in this step, you will have to do research regarding your area of study and which educational institutions better suit your need. Canada has many reputable colleges and universities which you can enroll in and accomplish your goal of getting an education in Canada to be self-sufficient. If your goal is to progress your career, you can plan by researching the job requirements online. If the job requires you to get a Canadian Certification, now would be a great time to look at how and where you can get that certification from. If your original goal was to establish a business in Canada, this step requires you to investigate the Canadian government's requirements to open a business. Also, you must ensure that your business plan is adaptable in the Canadian market and do some research regarding possible government incentives your business can receive. The planning stage is a fun experience for many people as it puts their goals closer to reality as they have a path to follow. As we mentioned, there is a lot that needs to be planned, depending on your immigration program, long-term goal in Canada, and your purpose for immigrating here. It really does take a lot of knowledge and research to adapt the perfect plan and thrive in Canada.

Execution

Congratulations! You have finally made it to Canada! All those years of hard work and stress have finally paid off. You have arrived in Canada and now it's time to execute your plan for a successful settlement in your new home. For those seeking to get more education, this can be done by applying to their educational institution of choice and follow through with the academic requirements of the program. If your goal is to further your career in your field in Canada, this would be a great time to apply for jobs online, get in touch with hiring agencies or make connections by attending job festivals or online job seminars. Goals regarding starting a business can be executed by seeking a business permit from the government and looking at locations to set up your business. Getting in touch with local or international suppliers for your business may also help you realize your goals. This is the most exciting part for people because you are finally ready to execute your plans and all the hard work you put into this!

The Immigration Success System

We have established how important it is to prepare, plan and execute that plan for you to be self-sufficient in Canada. It helps you set realistic goals in realistic timelines and sets a path for you to follow, so you are prepared to execute your plan as soon as you arrive in Canada. I would also like you to refer to Second Passport for an overview of the Immigration Success System, conceived and created by me, Brandon Miller! The Immigration Success System is contained of three different stages which are further divided into eight different steps.

The breakdown is as follows:
1. Planning:
The Discovery Session
The Immigration Blueprint
2. Implementation:
The Application Build
The Tactical Submission
The Landing Experience
3. Settlement:
The Pre-settlement Formula
The Settlement Advantage
The Citizenship Solution
Planning Stage
This two-step easy-to-follow stage begins with a session to determine the quickest, easiest and cost-effective way for you to immigrate to Canada. At the end of the session, you end up with your Immigration Blueprint. The two-step planning stage includes the Discovery Session and an Immigration Blueprint. In the Discovery Session, we want to know everything about you: your background, family history, education history, work history, your language skills, amongst other things. This process helps us understand who you are as a person and helps us understand your goals and how we can help you achieve those goals once you arrive in Canada.

With all the information you have provided us, we can move onto the next step which is creating your Immigration Blueprint. During the Immigration Blueprint process, you can create a personalized program that meets the immigration requirements and your personal requirements and goals. Your Immigration Blueprint will be the start of your immigration application and will be a roadmap for you to follow during your immigration process. To be successful in the planning stage, we ask that you share whatever information you think is relevant to your immigration case. This will help you create a foolproof Immigration Blueprint which you can use as a guide during your immigration process.

Implementation Stage
This three-step process starts with creating your application with the Immigration Blueprint as a guide. The Implementation Stage includes Application Build, Tactical Submission, and the Landing Experience. During the Application Build Process, your application is built by finalizing your Blueprint. By designing and finalizing your Immigration Blueprint, your application can be pieced together. This will require you to gather all relevant information, forms, and supporting documentation which will become a finalized package for submission.

During the Tactical Submission Process, you must keep up with the application process. This is the time to keep a sharp eye on your application while answering or providing any additional documents that may be asked. Familiarize yourself with the application process so you are not caught off guard by any changes. COVID-19 has significantly changed the timelines of the application process, so it is important that you keep an eye out for any updates provided by IRCC. The final step in the implementation stage is the landing experience.

The goal during the Landing Experience is to land in Canada as a Permanent Resident and follow your plan, (already completed at this point!) to successfully settle in Canada. You might be relieved that you can finally land in Canada, but there is still a little work to do. This the time for you to prepare yourself for landing in Canada and figure out the technicalities that come along with it. These include finding residence, figuring out how much funds you can bring along, looking into the job market in the area you are settling into, amongst others. But you know this already, as we've done this in the Planning Stage and your Immigration Blueprint! The Implementation Stage puts you in an excellent position before you arrive in Canada. You will feel prepared for what is to come as you have already researched and planned the next steps you will take upon your arrival in Canada.

Settlement Stage
The Settlement Stage includes making a Pre-settlement Plan to ensure that you successfully become self-sufficient in Canada and you can achieve the goals you had set out to achieve in Canada. The Settlement Stage involved three steps: the Pre-settlement Formula, the Settlement Advantage, and the Citizenship Solution.

The Pre-settlement Formula is to have a plan for your arrival and helps you prepare for your post-arrival goals. Completing this step will save you time, stress, and money as you will be prepared for all the things that might come your way after you arrive in Canada.

The Settlement Advantage is built upon your Pre-settlement Formula. You feel much more comfortable when you land in Canada with a plan already in place which gives you a settlement advantage. We cannot emphasize how important it is to have a settlement plan. It gives you a settlement advantage over others who have not prepared in advance for starting their new life in Canada.

Lastly, The Citizenship Solution. This is the final step in your journey to becoming a Canadian Citizen. This step has you prepared for when you are eligible to apply for Canadian Citizenship. You are finally a Canadian Citizen, and your hard work has finally paid off! Enjoy your Second Passport!

Final Thoughts

It is extremely important that you plan and prepare ahead of your arrival in Canada. Many newcomers to Canada make the mistake of not being prepared and not having a plan which ultimately costs them time, stress, money, and can have a negative impact on their experience in Canada. Second Passport's Immigration Success System, including Planning, Implementation, and Settlement, can help you prepare ahead of time upon your arrival in Canada. These stages were conceived and created to keep your immigration needs in mind and to save you unnecessary stress and trouble during your immigration process. If you have any questions about success in Canada or want to learn more about the Immigration Success System, send us an email and we'd love to chat more as we love our system!
---
Ready to get started? Here are three ways we can help:
1. Join our Facebook Community to connect with an amazing group of Second Passporters... This is a space where the community can share information, updates, and connect as a group of people with all the same goals!
2. Subscribe to our YouTube Channel to help you prepare for your new journey of immigrating and settling in Canada!
3. Ready to begin your journey? Join our 5-Day Immigration Blueprint Challenge. By the end of the 5 days, you will have an Immigration Blueprint™ outlining your pathway to Canada.