Self-employed? This is how to immigrate to Canada...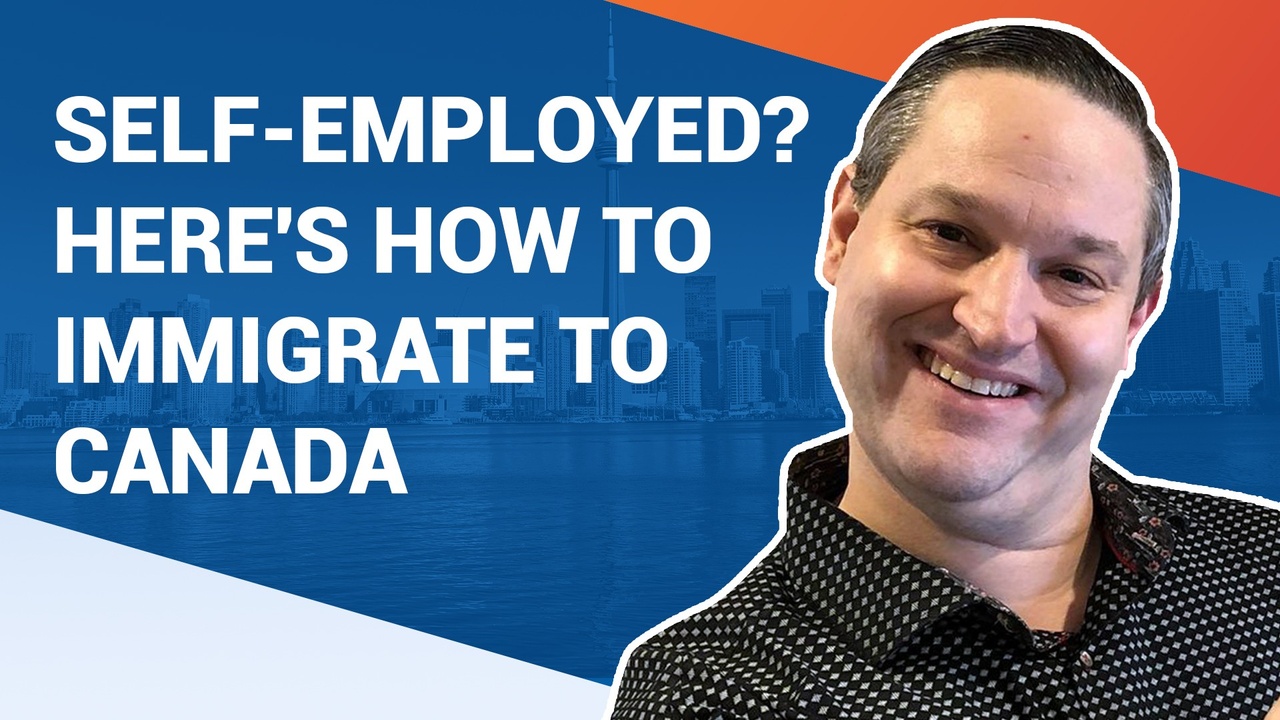 Can you immigrate to Canada as a self-employed person? What are the requirements to immigrate to Canada if you are self-employed and who is this program for?

It is possible to immigrate to Canada as a self-employed person, as Canada recognizes the valuable contributions that self-employed people make to the Canadian economy. At the same time, the definition of self-employed people and those who qualify to immigrate to Canada as self-employed is narrow and limited to individuals who work in two sectors. Unfortunately, just because you are your own boss does not mean you qualify for this program.

This is a special program for people with cultural or athletic skills, but more on that later. Today we will explore how self-employed people are defined in Canadian immigration law; what the Self-employed Persons Program is; the requirements and application process; and how people are selected to immigrate to Canada under this pathway.

Who is Considered Self-Employed?

The Immigration and Refugee Protection Regulations define a self-employed person as "a foreign national who has relevant experience and has the intention and ability to be self-employed in Canada and make a significant contribution to specified economic activities in Canada." In other words, to immigrate to Canada as a self-employed person you must both have relevant experience in the field in which you are self-employed and be able to contribute to the Canadian economy through your work.

But what does relevant experience actually mean? Fortunately, the IRPR also defines this term, describing the relevant experience as two years of experience during five years before the application is submitted. Under the definition of relevant experience, the IRPR describes only cultural and athletic workers and farm managers who are self-employed. It is clear, looking at this definition, that the Canadian government allows and facilitates the immigration of self-employed individuals to Canada, but solely for those who are in this group of workers.

You may have heard of this path to permanent residence described as "the artists and athletes visa." And this accurately reflects who the program is aimed at, but the definition of who is a cultural or athletic worker can be quite broad — you do not need to be a famous artist or athlete to be considered for this visa. The visa prioritizes people who are experienced and established as self-employed in their athletic or cultural field or industry.

Cultural and Athletic Activities
Canada recognizes the valuable contribution that cultural and athletic workers can bring to the country. But what sort of work can be included as cultural or athletic activities.

Employment and Social Development Canada (ESDC) states that authors and writers, creative and performing artists, musicians, painters, sculptors, and other visual artists, technical support and other jobs in film, librarians and museum professionals, creative designers, and craftspeople all fall into the cultural activities area of self-employment, with a full list available through the ESDC.

The athletic sector occupations include athletes, coaches, sports officials and referees, and program leaders. The IRCC also recognizes that many of these workers do not have conventional employment, but rather are self-employed by their career path. We will discuss eligibility in more detail further in this blog.

It is important to note, however, that the visa and permanent residence stream for self-employed individuals are different than the entrepreneur stream as defined in the IRPR, as there is no minimum provincially-set net-worth requirement. To immigrate to Canada as an entrepreneur you must have a minimum net worth as regulated by the province in which you plan to settle. This is not the case for the Self-employed Persons Program, and this is a separate visa class from the entrepreneur stream.

While the IRPR defines self-employed persons as cultural and athletic workers or farm managers, due to ministerial instructions, Canada is not at present (and has not since March 2018), accepting applicants in the self-employed persons category who are farm managers. If you are a farm manager and you have an application pending under the self-employed person's program then your application will be assessed. But IRCC is not accepting new applications at this time. As a result of these instructions, the self-employed path to permanent residence path is restricted to cultural or athletic workers.

The Self-Employed Persons Program

The Self-employed Persons Program facilitates the immigration of self-employed individuals in either the cultural or athletic sectors to Canada. This is a Permanent Residence visa program and allows you to apply for a Permanent Residence Visa from either inside or outside of Canada. If you wish to participate in this immigration program, then you must have relevant experience in either the athletic or cultural sectors and be willing and able to contribute to cultural or athletic life in Canada. It is important to note, that while the Federal Government administers the program for nine provinces and three territories, if you wish to immigrate to Quebec as a self-employed person, you must apply separately through their business program, which has very similar criteria but is assessed separately.

Program Eligibility and Candidate Assessment
To be eligible to immigrate to Canada as a self-employed person you must, first and foremost, meet the definition of a self-employed person. There is then a points-based assessment program, as there is for many immigration applications in Canada.

Currently, you must receive a mark of 35 points out of a possible 100 but this score can and does change depending on the size of the applicant pool. The program selects candidates based on the score discussed above, whether you meet the definition of a self-employed person, and any documentation that you provide which supports your self-employment in the cultural or athletic sector.

The program is intended for high-level artists, musicians, cultural workers, and athletes to be able to establish permanent residence in Canada. You will need to provide documentation of your past self-employment doing high-level work in either of these sectors. You may be asked to be interviewed by a visa officer who will assess the accuracy of the documentation you provide, as well as fill in any information gaps.

It is important to note, that you do not need to be a Hollywood actor or NHL hockey player to qualify under this immigration class. Rather, you need to demonstrate experience in your field that is international in scope, membership in major organizations for your field (for example, membership in a musicians' or actors' union or guild), and competition of significant career milestones/relevant career experience. Musicians, artists, writers, athletes, and coaches who can demonstrate this experience (and are not in the NHL or the Rolling Stones) can immigrate to Canada in this visa class every year. Musicians will often use concert programs, tour information, albums they've recorded, and membership in a musicians' union to establish themselves as having a high-level and international career in the arts. Athletes and coaches can use proof of competition attendance or success, proof of training programs, etc. to establish their case. These are some examples of the types of documentation you can supply to support your application, but this is by no means an exhaustive list of possible documents.

Aside from this, demonstration of an internationally relevant arts and culture or athletics career through self-employment, you also need to score at least 35 points on the metric out of 100 possible points. As with other permanent residence visa categories, the metric is based on five categories: education, experience, age, ability in English or French, and adaptability. Let's break down the points and how you can score maximum points for each category.

You can be awarded up to 25 points for education, if you have a master's degree or Ph.D. and these points decline depending on your education, down to a high school diploma. Next, you can receive a maximum of 35 points for work experience, if you have five or more years of experience relevant to the self-employed work you are applying under. Next is age. You receive a maximum score of 10 points for age if you are between 21-49 years old and this score decreases if you are older or younger than that age gap. Then is language ability. Like most other immigration programs, applicants must have some understanding of an official language in Canada – English or French. Depending on how you score on an IRCC-accepted French or English Test, your proficiency is categorized as high, moderate, basic, or "no" ability. The maximum score for language ability is 24 points. Lastly, are adaptability points. Adaptability is determined based on whether you have previous Canadian work or education, your spouse's education (if applicable), and whether you have family in Canada who can help you adapt to Canadian culture. The maximum point for adaptability is 6. Again, to qualify for this program, your score must be at least 35 out of 100 points.

How to Apply as a Self-Employed Person

The self-employed persons' application works slightly differently than the typically Express Entry permanent residence application most are familiar with. You are, however, now able to apply online through the Permanent Residence Online Application Portal as an applicant to the Federal Self-Employed persons' program or the Quebec program. You also may fill out the application package on your home computer, validate and print the forms and then mail them to the centralized intake office in Sydney, Nova Scotia.

There are specific forms (Schedule 6A- Business Immigrants- Self-employed persons) that you need to include in your package. All of the information on what you must include in your permanent residence application as a self-employed person and the forms you need to fill out are included in the documents checklist (form IMM578E). Aside from the visa application materials we've already covered, you also need to provide biometrics information, as you do for any entry to Canada as a foreign national, and eventually, once your application has been submitted, you need to complete a medical exam which proves that you are not inadmissible to Canada on medical grounds.

Final Thoughts

The Federal and Quebec Self-Employed Persons Program recognizes that individuals from the arts and culture or athletic sector may not be conventionally employed but contribute greatly to the economy and the vibrance of Canadian life. This program creates a path not only for individuals employed in those two sectors to work in Canada temporarily but to immigrate to Canada permanently. While the definition of a self-employed person under the IRPR is narrow, who can be considered a cultural or athletic worker is broad and the program is for working artists, musicians, athletes, and more as much as it is for truly world-renowned individuals.

The Self-employed Persons Program can get complicated, and we suggest getting professional advice if you are interested in applying for this program. Contact us about any questions you have about this stream!


---
Ready to get started? Here are three ways we can help:
1. Join our Facebook Community to connect with an amazing group of Second Passporters... This is a space where the community can share information, updates, and connect as a group of people with all the same goals!
2. Subscribe to our YouTube Channel to help you prepare for your new journey of immigrating and settling in Canada!
3. Ready to begin your journey? Join our 5-Day Immigration Blueprint Challenge. By the end of the 5 days, you will have an Immigration Blueprint™ outlining your pathway to Canada.