Why Do I Need a Medical Exam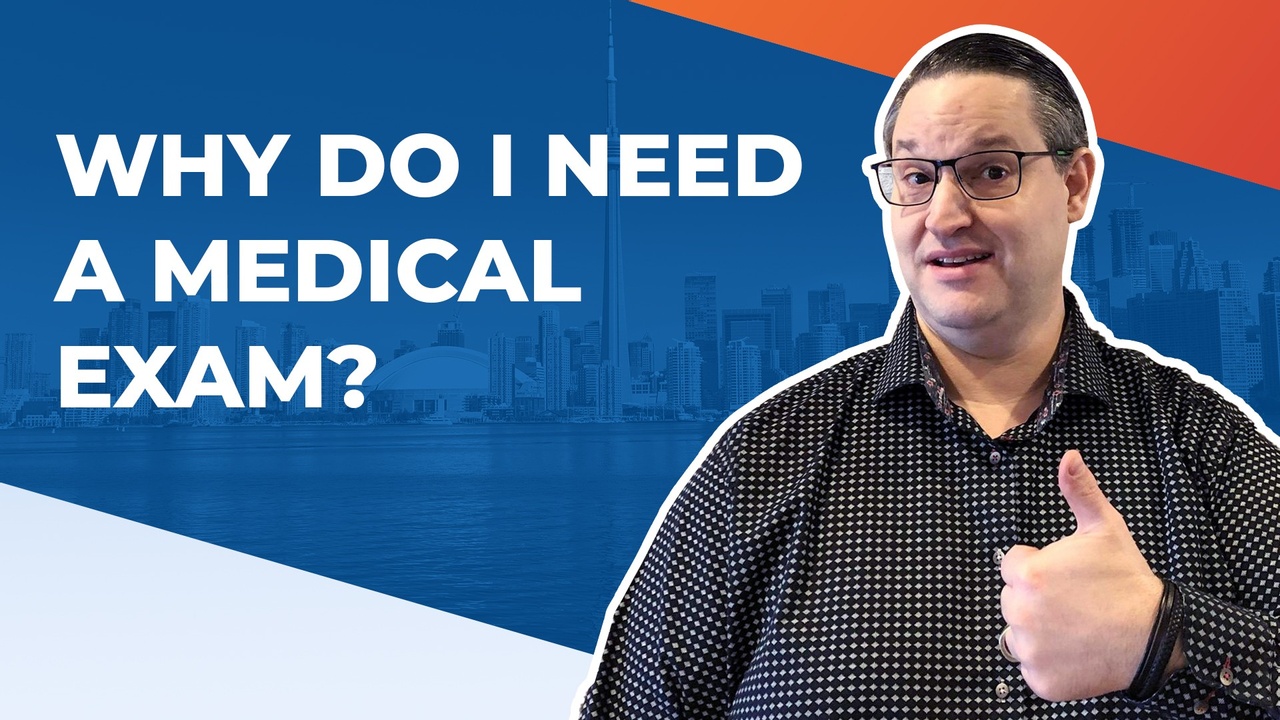 This is a question that some of our clients have asked us from time to time so we wanted to take this chance to delve into the purpose of medical examinations to immigrate to Canada and give you some more information about medicals and their importance.

Why is a Medical Exam Required?

To determine if you are admissible to Canada, a medical exam is required to assess your physical and/or mental health. The Government of Canada wants to ensure that everyone entering the country is medically and criminally admissible and does not present any harm to Canadians due to health concerns. Under the Immigration and Refugee Protection Act, the Minister of Immigration is responsible to ensure that the objectives of the Act are met. One of these objectives is to protect Canada's public health and safety and to maintain the security of Canadian society. Although immigration is important to Canadian society, so is the health and protection of Canadians. The best way to balance this is to have every immigrant complete a medical exam before they can enter the country.

If you, or a family member*, have a medical condition that may be a threat or concern to Canadian public health, you could be found inadmissible to Canada and your application could be refused. You could also be found to be inadmissible to Canada if you, or a family member, have a health condition (either physical or mental) that is likely to be a danger to public health, to public safety or may cause "excessive demand" on Canada's health or social services. If your family member has a severe medical condition, this can also deem you as inadmissible to Canada. Therefore, every member of your family is required to get the exam, but we'll speak about that more later.

*A family member is your spouse or common-law partner, and/or your dependent child or your spouse or partner's dependent child (whether accompanying or not), and/or a dependent child of your or your partner's dependent child.

Where Can I get My Medical Exam?

Many people think you can simply go to your family doctor and have your medical done. Unfortunately, that's not the case. The Government of Canada will only accept results of medical examinations conducted by recognized panel physicians. The government maintains a list of recognized panel physicians throughout the world, so people can easily access an updated list and the contact information to book their exams.

Once the medical is done, the panel physician will send the results to the government. Medical results are valid for a period of up to one year. If you apply for a subsequent immigration program you may need to undergo another medical, again something that will be expanded upon later in this blog!

What to Expect at the Medical

Generally, the panel physician conducting your exam will ask you a variety of questions to get a better understanding of your physical and mental state as well as any existing or previous medical conditions. The panel physician wants to know everything about your medical situation, including your medical history.

You will be asked about any medications you are currently taking, so remember to have these with you during your exam. It is important to answer questions honestly and truthfully so that there are no delays in processing your medical exam. Remember, if you are unlawful on any part of your immigration application, you will be refused and could be subject to a ban. The medical exam is no different. If you misrepresent yourself on your medical exam, you will be subject to misrepresentation charges and may never be able to come to Canada. If you do come to Canada and have been found to misrepresent your application or your medical condition, then that can be grounds for taking away your permanent residence and even your citizenship, in extreme circumstances.

The panel physician or doctor will conduct a physical examination which includes a few of the following processes: measuring your height, checking your blood pressure, feeling your pulse, checking your hearing and vision. You may be asked to do further testing if the panel physician finds it necessary. This can include x-rays and laboratory tests. If your medical exam results require even further testing, you may be referred to a specialist.

After conducting your medical exam, the panel physician will prepare a medical profile with your test results and give their professional opinion advising whether you are admissible, inadmissible, or require medical surveillance. This profile is key to your immigration application because it tells the IRCC whether or not you are admissible to Canada.

What is Medical Surveillance?

You may be required to be monitored for your health condition to make sure your condition does not worsen or become active and contagious later on.

Here's an example:
An applicant who has a history of inactive pulmonary tuberculosis decides to immigrate to Canada. They will be required to check in with a public health official in Canada within 30 days of landing for a medical follow-up. This is the protocol to ensure that the applicant's inactive tuberculosis does not become active and contagious, therefore potentially causing harm to the public health and safety of Canadians. You must attend this check-up.

Inadmissibility of Health Grounds

According to Section 38(1) of IRPA, A foreign national is inadmissible on health grounds if their health condition,
is likely to be a danger to public health;
is likely to be a danger to public safety; or
might reasonably be expected to cause excessive demand on health or social services.
Your application could be refused if you have an infectious disease or may have been in close contact with someone with an infectious disease which could spread to and affect others living in Canada. Examples of infectious diseases include some forms of tuberculosis as well as active and untreated syphilis.

If your medical condition could result in unpredictable and/or violent behaviour toward yourself or others, or a sudden loss of physical and mental abilities, you may be deemed a danger to Canada's public health and be found inadmissible. Examples of conditions that could result in a refusal of your application include both sociopathic behaviour disorders and sexual disorders.

Excessive demand of health services refers to a medical condition that is a burden on the Canadian health care system. This could include a financial burden, that is, a condition that is in "excess" of the normal cost of the medical and/or social services needed in order to be treated and managed. This also refers to any medical condition that could be deemed to have a negative impact on current wait times to these services.

In June 2018, the Government announced how they will be changing the definition of excessive demand of the Canadian healthcare system. Briefly, they revised the definition of social services and set higher financial limits for what is considered excessive demand. It is a temporary public policy that in essence, grants certain exemptions to "excessive demand" as grounds for medical inadmissibility.

For example, if the costs for health and services required to treat and manage your medical condition is less than three times the Canadian per capita equivalent costs over a five-year period, you are exempt from the provisions of excessive demand. The current cost threshold is $20,517 per year or $102,585 over a five-year period.

Excessive demand does not apply to foreign nationals that: are a member of the family class such as your spouse, common-law partner, or child; or have applied as a refugee or protected person (this includes their spouse, common-law partner, or child as well).

Who Needs a Medical Exam?

If you plan to stay in Canada for more than six months, you and your family members will need a medical examination. If you want to stay in Canada for less than six months, you generally do not require a medical examination. But, if you are coming to Canada temporarily for less than that time, but plan to stay longer in the future, you may want to consider a medical exam, in case the officer question you on that.

Not every immigration program requires a medical examination and not everyone within a particular immigration program will need one. For example, if you plan to study in Canada for more than six months, a medical examination may or may not be required depending on your program of study (ie. health care service industry programs) and/or your country of residence. If you have resided in certain countries for an extensive period of time (referred to as "Designated Countries"), you may need to do a medical.

The following programs/applications generally require that you and your family members undergo a medical:
Permanent Residence
Visit for more than 6 months
Parent/Grandparent Super Visa
Study Permit for more than 6 months
Temporarily work or study in health sciences field/clinical laboratories, healthcare fields, and/or with children, the elderly, or persons with disabilities
Note: If your occupation involves the protection of public health and you work in close contact with people, you will be required to do a medical exam, regardless of how long you stay in the country. These occupations include but are not limited to workers in health science, clinical laboratories, patient attendants in nursing homes, workers who give in-home care to children, the elderly, or disabled, etc.

When Should I Get a Medical Exam?

If a medical exam is required for your application, you can get it done either before or after you apply. If you choose to get an exam before you submit your application, contact a panel physician for an upfront medical exam. This option is available if you are applying to visit, work or study in Canada.

You also have the option of getting a medical exam after you submit your application. Once you apply, you will receive instructions on how to get your medical exam done. Note: The medical exam must be done within 30 days of receiving instructions.

It is super important to know that a medical exam is only valid for one year from the exam. Make sure you are submitting your application with that one year because you will need to get an updated exam if the time has passed.

What to Bring to Your Medical Exam

You should bring the following items with you to your appointment:
Valid government-issued identification document (ex: passport or Canadian driver's license)
Eyeglasses or contact lenses, if you wear them
Previous medical reports or test results for previous or existing medical conditions
A list of your current medications
The Medical Report Form (IMM 1017E), if you did not get an upfront medical exam
Medical Exam Fees

You are required to pay all fees related to your medical exam at the time of the examination. This includes:
Physician fees
Special tests, investigations, or treatments required at time of examination
Other specialist fees, if required
Note: Unfortunately, if your application is refused, there are no refunds for medical exam fees. If your medical exam expires and you require a new one for your application, you are also responsible for the payment of a new exam.

The medical exam fees vary based on age, conditions, and location. As a general note, medical exams are between $160-$250.

What Happens if You're Medically Inadmissible?

If an immigration officer suspects that you or a family member are medically inadmissible, they will first issue a Procedural Fairness Letter to provide you with an opportunity to respond. The Procedural Fairness Letter will outline the officer's concerns and will provide you the opportunity to respond to those concerns within a certain time frame. If after you have responded, or if you don't respond, and you are found to be medically inadmissible, your application will be refused.

Even if your application is refused because of medical inadmissibility, you may still have some options available to you. If your application is for Permanent Residence, you may be able to overcome medical inadmissibility on humanitarian or compassionate grounds.

Final Thoughts

As a general rule, a medical exam is required for immigration applications. Medically inadmissibility is grounds for refusal, so an exam is crucial in your Canadian future. As a few reminders, most programs require a medical exam, only IRCC panel physicians can conduct exams, medical exam results are valid for one year, and you and all family members require an exam.

If you have any questions about medical inadmissibility or concerns about your medical conditions and immigration application, please reach out to Second Passport and we're happy to discuss this with you.
---
Ready to get started? Here are three ways we can help:
1. Join our Facebook Community to connect with an amazing group of Second Passporters... This is a space where the community can share information, updates, and connect as a group of people with all the same goals!
2. Subscribe to our YouTube Channel to help you prepare for your new journey of immigrating and settling in Canada!
3. Ready to begin your journey? Join our 5-Day Immigration Blueprint Challenge. By the end of the 5 days, you will have an Immigration Blueprint™ outlining your pathway to Canada.