The Federal Skilled Trades Program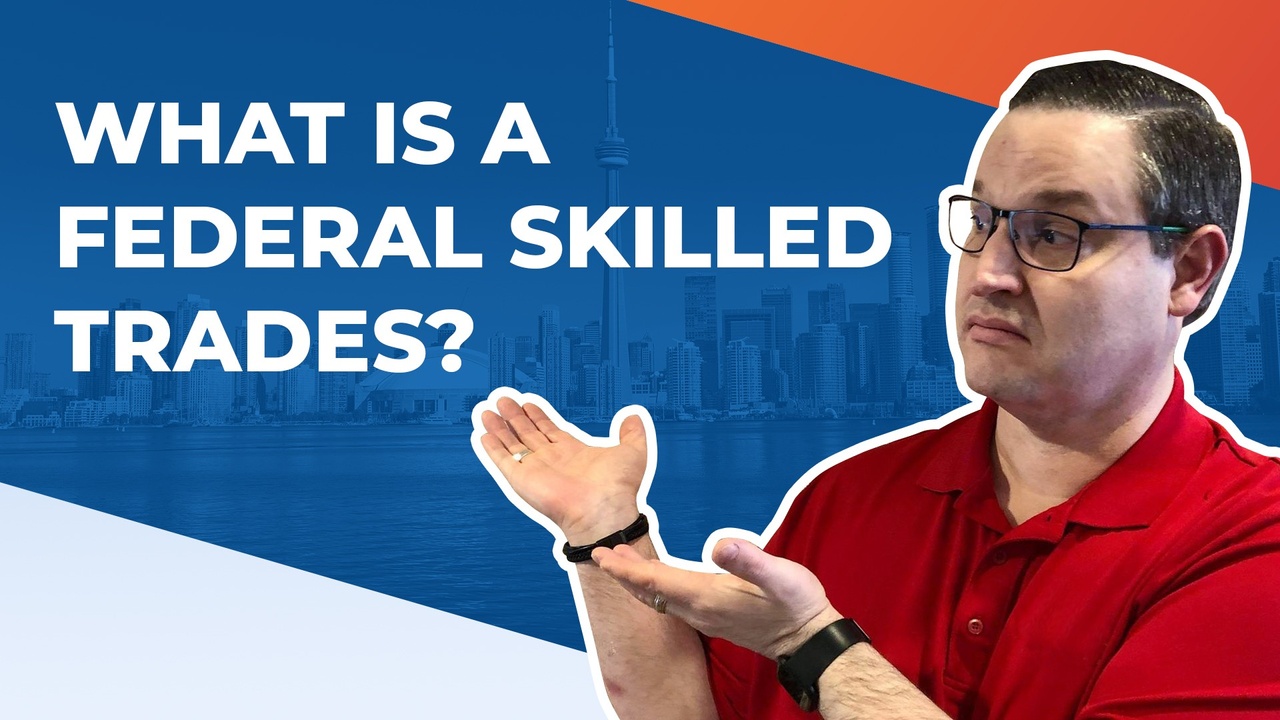 The Federal Skilled Trades Program (FSTP) provides the opportunity for skilled workers in a particular skilled trade to become permanent residents of Canada through Express Entry. The FSTP is one of three programs that are managed by the Express Entry immigration selection system in Canada to apply for Permanent Residence. We have plenty of content on the other programs, Canadian Experience Class (CEC) and Federal Skilled Worker (FSW), so if you want to check those programs out, check out our blogs and you can get a better understanding of some of the other programs. For this blog, we will focus on the FST program and the eligibility criteria for those interested in applying.

Who can apply for the Federal Skilled Trades Program?

This program is created to cater to skilled workers in a trades occupation who have work experience in a foreign country and are currently looking to permanently settle in Canada. You can apply for the program in Canada or outside of Canada. The people qualified for the FST program must have work experience in the required group to be considered for the program. Some examples of skilled trades that are eligible under this program are chefs, bakers, mechanics, carpenters, processing and manufacturing supervisors, etc. Keep reading for more on eligible occupations for this program!

Eligible Occupations for FSTP
To find out if your particular occupation is eligible, check out the National Occupation Classification (NOC) system on the Government of Canada website. As a recap, the NOC is the system that organizes and sorts jobs into a database based on the Canadian job market. To find your appropriate NOC, click here to search the NOC database. All you have to do is enter the job title you have skilled work experience in and find the job title that is most appropriate to and matches your occupation.

Another important consideration when speaking about the NOC codes is that the lead statement and main duties must match the lead statement and job duties. This is really important to confirm you have selected the correct occupation. Your NOC is the center of your entire application, so this is a key, first step in making sure your work experience lines up with a skilled occupation.

As a reminder, make sure your skilled trade falls within one of these groups eligible for the FST program:
Major Group 72, industrial, electrical, and construction trades
Major Group 73, maintenance and equipment operation trades
Major Group 82, supervisors and technical jobs in natural resources, agriculture, and related production
Major Group 92, processing, manufacturing, and utility supervisors and central control operators
Minor Group 632, chefs and cooks
Minor Group 633, butchers and bakers
Requirements for the FST Program

Let's dive into some more requirements for the FST program. To be eligible and successful in your application for permanent residence as a Federal Skilled Trades worker, you must meet the following requirements under the Immigration Refugee Protection Regulations (IRPR).

Language Proficiency
You must meet the minimum language level of Canadian Language Benchmark (CLB) 5 for speaking and listening, and CLB 4 for reading and writing, in one of the official languages. Please note: Your language test results are only valid for 2 years after receiving your results and must be valid on the day you apply for permanent residence. Want to learn more about language tests and requirements? Check out our blog, for a great breakdown of everything you need to know about language tests for Canadian Immigration purposes.

Work Experience
As discussed above, work experience is key to qualify for the FST program. You must have at least 2 years of full-time work experience or the equivalent of part-time work, in your particular skilled trade occupation during the five years before you submit your application. Please note that work experience must be paid work. We get a ton of questions about volunteer and unpaid work experience and while we know you worked hard during those jobs, they unfortunately, do not count towards this work experience.

In order for the work experience to be counted, you must show that you have performed all the actions described in the lead statement and the majority of the main duties listed in the NOC description of the occupation. Make sure to visit the Government of Canada website to see what actions are required for your particular occupation.

Something I like to let people know is to make note of the important wording in the NOC job description and lead statement. Make note of words such as "some or all" of the following duties or experience is "usually required." This is important to note because you may not follow the main duties exactly, and that's okay, but you need to be mindful of the nuances found in the NOC code itself! As long as you meet the "required" or "must" qualifications and "some or all", that is likely to be your NOC and I assure you that you must pay close attention to this as the officer certainly will. But I will say if you are unable to show that you have performed the necessary duties required by the occupation during your work experience, your application can be refused.

Employment Requirements
Something about the FST program that sets it apart from the other Express Entry programs is that you must have a valid job offer or a trade certificate of qualification in that skilled trade. To be eligible for the FST program, you must show proof you have a valid job offer in Canada that is for full-time employment and is for at least one year. I could go on about what a valid job offer is, but we'll save that for another blog! But I will say that a valid Canadian job offer is not just a simple offer letter from a Canadian employer but can be as intense as getting an LMIA. Check out our blog about LMIAs here, in case you would like to read more about LMIAs and understand exactly how these can help you get a work permit.

A certificate of qualification proves that a person is qualified to work in a particular skilled trade in Canada. This means you have passed a certification exam and meet all the requirements to practice your trade in that particular province or territory. Depending on where you obtain your certificate, it may be called a "certificate of qualification" or a "qualification certificate." Either way, it doesn't matter – they're both accepted!

Whether you need certification will depend on where you intend to live and work in Canada. In some instances, you will have to physically travel to the province or territory to be assessed and certified by a Canadian provincial, territorial or federal authority. You will be assessed on your training, trade experience, and skills by the regulatory body in the province/territory for your particular trade. The regulatory body will then decide if you are eligible to write the exam to become certified. A certificate of qualification is only necessary if you have no valid job offer for full-time employment in Canada at the time you are applying.

A certificate of qualification must be issued by a Canadian provincial, territorial or federal authority in Canada. Otherwise, it will be considered not valid when applying for the program.

Proof of Funds
You must be able to show you have sufficient funds for you and your family to settle in Canada, unless you are currently working in Canada and have a valid job offer from an employer in Canada. We recently posted a blog about proof of funds and the amount of money you need for Express Entry, check it out here! This blog goes through the funds you need to immigrate to Canada based on your family size.

Admissibility
If you've read our blogs before, they must always include being medically and criminally admissible to Canada. I hate to sound like a broken record, but this is extremely important. If for whatever reason(s) you're inadmissible to Canada, you are not eligible for this program nor allowed to enter Canada.

Living Outside of Quebec
You must plan to live outside the province of Quebec. If you plan to live in Quebec, check out Quebec-selected skilled workers for more information on their application process. The immigration process in Quebec differs a lot from the rest of Canada. It is important to do your research if you plan on living in and applying in Quebec.

Education
Although there are no education requirements to be considered eligible for this program, you can improve your chances of being successful in your application if you have completed a certificate, diploma, or degree. Your education can improve your CRS scores depending on the level of education and whether it is from a Canadian post-secondary institution or a foreign credential that is equivalent to a Canadian credential with an Education Credential Assessment (ECA). This can improve your chances of approval in your application because points are awarded to individuals with a high level of education and could potentially increase your ranking in the Express Entry pool of applicants.

As a recap, an ECA is an assessment conducted by a designated organization to verify and decide if your foreign education credentials are equivalent to that of a completed certificate, diploma, or degree from a Canadian secondary or post-secondary institution. If you want to learn more, check out our blog that specifically focuses on ECAs here!

Scenario

Suppose Vivek is a single, 30-year-old Citizen of India who is applying under the FST class. He studied electrical engineering at the Indian Institute of Technology. Vivek worked as a full-time electrical engineering technician in India for the past three and a half years when he was provided an opportunity to work with an engineering firm in Ontario, Canada. He is admissible to the country and has saved money over the years to be able to financially support himself if he decides to settle in Canada. He also scored a CLB 7 on all language skill areas.

Let's see if he successfully meets the requirements of an application for permanent residence under the IRPR for foreign nationals.

Vivek has a score of CLB 7 in all language skill areas, so he exceeds the language requirements. Since he worked as a full-time technician for three and a half years, he meets and exceeds the work experience requirement. However, Vivek needs to make sure he has performed the main duties in the lead statement and duties for electrical engineering technicians in the NOC. Vivek has a valid offer of employment, so he is not required to obtain a certificate of qualification. Although there are no education requirements for this program, Vivek can score more points for the level of education he obtained.

Vivek has successfully met the requirements of the application. However, this does not guarantee permanent residence status for Vivek. This only means he is eligible to be considered for PR status under the FST program.

Final Thoughts

To conclude, the FST is a great program for those who have experience in the trades field and meet all other requirements. If you qualify for the program and are interested to apply for Canadian Permanent Residency, now is the time! If you have questions about the FSTP and want to learn more about the process, reach out to us and we're happy to help!
---
Ready to get started? Here are three ways we can help:
1. Join our Facebook Community to connect with an amazing group of Second Passporters... This is a space where the community can share information, updates, and connect as a group of people with all the same goals!
2. Subscribe to our YouTube Channel to help you prepare for your new journey of immigrating and settling in Canada!
3. Ready to begin your journey? Join our 5-Day Immigration Blueprint Challenge. By the end of the 5 days, you will have an Immigration Blueprint™ outlining your pathway to Canada.